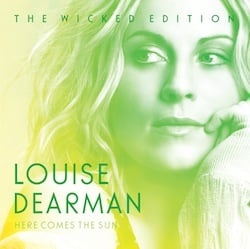 £

12.50
AVAILABLE NOW! a SIGNED COPY OF:
LOUISE DEARMAN
'HERE COMES THE SUN' The Wicked Edition
Posted immediately...
Louise Dearman has become a necessary talent in modern and classic theatre from one of the most endearing Glindas the stage production of Wicked has yet seen - to being the first actress EVER to play both Elphaba and Glinda in Wicked.
Louise made her mark as a solo artist with her new album – Here Comes The Sun – released May 2012 on Big Hand Recordings & to celebrate Louise's return to Oz Big Hand Recordings are releasing The Wicked Edition of the album.
Louise has recorded a unique and exclusive version of Defying Gravity which has been added to the track listing plus there's an added extra tucked on the end.
An elegantly crafted record in which Louise interprets some of her favourite songs. The lead off track from the album is a fine haunting version of The Beatles 'Here Comes The Sun'. Stand out tracks on the album includes a duet with Steve Balsamo on Cyndi Lauper's Time After Time ; Annie Lennox's 'Little Bird'; Alanis Morissette's 'Uninvited' and Randy Crawford's 'One Day I'll Fly Away'.
"As much as I love Pop Music," she says, "I do always prefer more dramatic songs, and artists like Alanis Morissette, Annie Lennox and Skunk Anansie. I love complex lyrics, and of course the opportunity to really belt out a song, you know?"
Tracklisting
Here Comes The Sun
Squander
Time After Time
Gravity
Defying Gravity
See The Day
Little Bird
This House
Uninvited
One Day I'll Fly Away
Kissing You
Hidden Extra..
Louise Dearman – a name which will be on everyones lips!
The album will be mailed out immediately
£12.50 incl P&P UK only