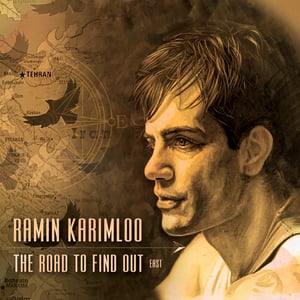 £

5.95
All cds will be posted out on or before April 7th. This cd is available for world wide and is available to buy NOW
Iranian-born, Canadian actor and singer, Ramin is a musical force unlike any other. Recognised as the favourite leading man to perform in London's West End Musical Theatre by whatsonstage.com. He is about to open in Les Misérables on Broadway in the brand new production March 2014.
Ramin is now releasing the ultimate Country/Broadgrass EP 'The Road To Find Out' – an amalgamation between Broadway and Bluegrass music, out on 7 April via Big Hand Recordings. Ramin is the first artist to fall under the 'Broadgrass' genre, which has evolved since his first album was released on Sony in 2011/2012.
'East' is the first of four EPs from 'The Road To Find Out' release series, with 'North', 'South' and 'West' to follow. In the world of theatrical performers, Ramin is known as one of the most formidable talents in the industry and for his leading roles in international theatre productions such as Jean Valjean in Les Misérables and Raoul and Phantom in the Phantom in Phantom of the Opera.
The tracks on 'East' include "Oh What A Beautiful Morning" from Oklahoma, a brand new song called "Losing" which Ramin wrote with Hadley Fraser (an English stage actor, who played Marius in Les Misérables), "Empty Chairs at Empty Tables" from Les Miserables, and "Broken", another original track co-written with Hadley.
Ramin was hand picked by Andrew Lloyd Webber to play the lead role in his sequel to The Phantom of the Opera, Andrew Lloyd Webber's 'Love Never Dies'. He originated the role of Phantom in this sequel, a role that won him the prestigious Theatregoer's Choice Award and the Broadwayworld.com award for Best Actor in a musical.
He was also nominated and won the award for the Best Actor category for the prestigious Viewers' Choice Theatre Awards at Whatsonstage.com in 2011, as well as nominated for a Laurence Olivier Award for Best Actor in a Musical.
Ramin's songs all tell stories, regardless of its origin. 'As a music lover and a writer, I love songs that tell stories. Musical diaries. Bluegrass, folk and country speak to my heart. We kissed some Bluegrass into our Broadway selections and breathed some theatre into my bluegrass/folks songs.'
£5.95 + P&P items dispatched NOW